Follow my blog with Bloglovin
Destination Wedding with Black-tie dress code
The third wedding invitation for a summer full of weddings led our editor-in-chief Toni to a country estate in Tuscany. In her report she shows us her handmade wedding outfits and the most beautiful impressions of the destination wedding.
There is something about late summer weddings … the golden glow of the late summer sun, the ripeness of nature and the enhanced joy of feeling the heat because fall is near. We had the pleasure to be invited to the quintessential summer destination wedding as our third wedding invitation: Pauline & David at Tuscan country estate Il Borgo di Vignamaggio. This XVth century villa is located in the middle of Chianti Classico heartland, near Greve in Chianti and was owned for centuries by the family of  Gherardini. One of the Gherardini women gained long-term fame when she was portrait by Leonardo da Vinci, now a painting world-famous as "Mona Lisa".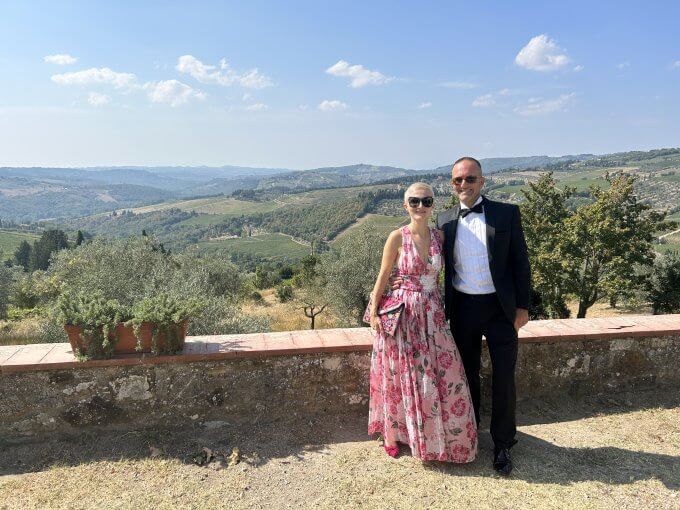 With Pauline being the founder of wedding planning start-up "Weddyplace" the whole weekend was a wedding connoisseur's dream. Guests from all parts of their life, family, family friends, colleagues brought together a great group of 160 people.
Alex and I traveled by car which always gives us great joy as you see more of the country and how regions and places fits together. We arrived in time for the Friday Welcome Get-together which took place in "La Corte" for Pizza and Drinks from the Aperol Bar.
Next day the ceremony only started in the afternoon so we had plenty of time to relax in the very nice garden of our accommodation and to explore the surroundings. Alex and I got up really early and went for a morning stroll in little town Greve. There we also luckily found an Antique shop with Vintage cuff holder's for Alex, an important detail for a black-tie event which we forgot at home ;-)
The Black-tie dress code also gave us, the sisterMAG Patterns team, a great opportunity to develop a wonderful DIY wedding guest outfit based on a very old sisterMAG Pattern: 40-1. Originally, this dress with crossed back straps was part of the linen shoot for sisterMAG No. 40, beautifully photographed in a museum square full of antique airplanes. Internally called the Hydrangea dress because of the flower print (fabric from the wonderful Etsy shop: Stoff Atelier Frese), it is the perfect dress for a (very warm) summer day. I paired it with an embroidered bag which my colleague Alina brought from her home country Pakistan – a perfect fit!
The wedding ceremony started at 4pm in a typical Tuscan church with the most wonderful view on the countryside. Dipped with women in gorgeous dresses and men in dashing tuxedos, it was a very pretty view. Then we headed back to Borgo di Vignamaggio for a flying buffet, the first cocktails and speeches to the bride and groom in the "Frutteto" and "Pergola" areas of the venue.
For the evening part due to the balmy night we stayed outside but moved to the impressive "La Piazza". There long, festive tables were set up and we had a 4-course dinner with various speeches from the father-of-the-bride and the best man sprinkled in between. Afterwards the dance floor was opened outside and the party went on until the early morning hours. The extraordinary weekend drew to an end the next morning with coffee and croissants in "La Galleria". Big sunglasses a must ;-)