Follow my blog with Bloglovin
Digital Ladies Travel: Paris Travel Tipps for rainy days
We want to show you the best travel tips for Paris on rainy days from travel journalist Sophia Schillik (see her previous articles for sisterMAG here). Whether you want to explore the foodie scene with the best coffeeshops, chocolateries and great restaurants – we have just the perfect spots for you! Or you want to rather go sightseeing, explore flea markets and walk through enchanted cemeteries: Sophia has the best tips and inspiration for you as well. Enjoy your stay!
When I arrive at Gare du Nord, heavy drops of rain crash down from the Parisian sky. As if the weather Gods knew that my program for this extended weekend trip includes plenty of café and restaurant hopping, cultural discoveries, a bit of strolling and shopping, and a lot of exploring. It takes me five minutes and a noisette to rearrange myself and allow for the initial disappointment to give way to rushing anticipation. Of course, every traveler wants sunshine, but nothing can spoil my mood. "Je m'en fou," smiles an elegant French woman next to me ("oh, what the hell") as she wraps her scarf around her perfectly styled hair and jumps out into the rain. She's right. Paris is also beautiful in a downpour.
Boulangerie Du Pain et Des Idées
"Deux croissants et un pain au chocolat, s'il vous plaît." With wet shoes but shiny eyes, I stand in line for 15 minutes and wait patiently for my turn. The small bakery »Boulangerie Du Pain et Des Idées« in the 10th arrondissement has a reputation for offering the best baked goods in the city, perhaps even in all of France. It is no longer an insider's tip, especially since American food journalist David Lebovitz declared this hot spot as his personal favourite. It doesn't just attract tourists from all over the world, but also Parisians themselves, who have fallen for Christophe Vasseur's great breads and heavenly viennoiseries. I definitely recommend trying the sweet buns with pistachio and dark chocolate, as well as the almond croissants.
Flower Shops in Paris
All of Paris is in absolute flower fever. At all corners, in all arrondissements, it blooms and sprouts, bouquets are bound, and wreaths are woven, ferns andmosses are showcased in majesticglasses. Are they florists or artists?Their works are transient, but fullof magic and delicacy.
Nue Atelier
The young florist Claire Boreau is a shooting star in the scene. She set up Nue Paris, her floral atelier, in her grandfather's old painting studio and turned her fascination for flowers into her profession and vocation.
Peonies
A little less lavish, but just as authentic, is the atmosphere at »Peonies« on the trendy rue du Faubourg Saint-Denis. Barista culture and floral passion meet here in the city's first "café fleuriste." The feminine interior with a turquoise tiled counter, lots of light wood, rosé and brass-coloured elements, as well as the concept itself, is the work of DJ and model Clémentine Lévy. The menu includes beautifully arranged avocado tartines, creative salads, warm soups, granola with fruit, delicious cakes, matcha lattes, and, of course, the best coffee. And when you pay, you can take a few new green roommates with you.
Flea Markets Paris
Paris without a flea market is like a candlelight dinner without champagne. Sure, it's possible, but it's just not the same. The Marché aux puces de Saint-Ouen is located at the northern edge of Paris, in the 18th arrondissement, and features countless covered stands with small, picturesque backyards spread out over 15 different sections. You'll find all kinds of trinkets and junk, but also real rarities and antiques – from high-quality furniture to crockery, cutlery, and decor from bygone eras. The world's largest flea market (12,000 square metres) and also the oldest flea market in France; people have been digging, trading, and haggling heresince 1885.
HOW TO GET THERE:Take the Métro line 4 to Porte de Clignancourt. From there, walk about 10 minutes north under your umbrella. Attention: The flea market is only open on Saturdays, Sundays, and Mondays, from 10 a.m. to 1 p.m., and again from 2 p.m. to 5:30 p.m.
Best Parisian Patisseries
What would life be without chocolate? Or macarons? Or cakes?Definitely meaningless. And Parisians know that. The gourmetcapital boasts chocolatiers and pâtissiers like sand on the sea.
SOPHIA'S FAVOURITE: One of my favourites is the Chocolaterie Cyril Lignac. A rainy day presents the perfect excuse to treat yourself to one of the serotonin seductions of the star chef and restaurateur's cocoa factory. His café-chocolaterie on the Rue de Chanzy in the 11th arrondissement makes fans of brown gold blush. The stylishly illuminated bar and dreamy tiled floor are real eye-catchers, while the beautifully packaged bars make for a wonderful gift. I highly recommended taking a break from the outdoor showers with some dark chocolate with sesame seeds and green tea or milk chocolate with marshmallowsand caramel.
O/HP/E
The patisserie O/hp/e on rue du Château d'eau is a concept store, café, and workshop all in one. In the back, you can shop tableware and pretty home accessories, and in the front you can enjoy a view of the street with a café crème, cafe au lait or cappuccino. There are also some delightful pastries to indulge in.
Sightseeing despite rain
4 Roues sous 1 Parapluie
Literally a perfect fit for a rainy day, 4 roues sous 1 parapluie ("4 routes under an umbrella") puts you in the passenger seat of an old Citroën 2 CV as the guide navigates along a predetermined route highlighting the most important hotspots of the city. Bonjour, Arc de Triomphe. Salut, Notre-Dame. Coucou, Moulin Rouge! We jump from one spot to the next and, keeping dry, pass all the must-sees: the Champs-Elysées, the Place Vendôme with the Victory Column, the Tuileries Gardens, the Palais de Justice, and so on. There's even time for a brief stop at the Eiffel Tower. Finally, when the rain decides to take a break, we get out for a short visit to the Basilica Sacré-Cœur in Montmartre. Take in the majestic view from the steps and, even higher up, from the dome of the iconic pilgrimage church, which is accessible via a stone spiral staircase. You'll be hardpressed to find a better view of the Parisian cityscape.
Best Lunch?
Hotspot hopping creates an appetite. But where to start in a city like Paris? After all, temptations beckon at every corner. Croque monsieur. Moules frites. Steak tartare. Oysters. Rilettes. And cheese, cheese, cheese. The real, the really good, and the new, innovative French cuisine, however, takes place off the beaten track.
MOKONUTS
Make stop at Mokonuts in the 11th arrondissement, where Omar Koreitem and Moko Hirayama serve a delectable lunch from Monday to Friday. Vegetables, meat, and fish are transformed under the creative fingers of the gastro couple into delicious dishes somewhere between Orient and Occident, prepared simply but always with a creative twist. Freshness and taste are the name of the game.
LE VERRE VOLÉ
Le Verre Volé in the 10th arrondissement is what they call a real institution. Natural wine fans and fans of standout authentic Parisian bistro cuisine have been making their way here for over 18 years. The scenery is très sympa: A bit loud, a bit narrow, a bit rustic, without big fuss and decidedly real and honest. The evening's à la carte offering is a real treat, while a cheap formule du midi presents itself at noon.
Dinner / Casual Fine Dining Paris
Septime
Septime is a gastronomic surprise in the city, and getting a table is by no means a guarantee. Bertrand Grébaut made his purist approach to new French cuisine known within a short period of time. In spite of earning a Michelin star, the small restaurant in the 11th arrondissement is very casual; there are neither white tablecloths nor ostentatious dishes. Rather, you'll experience a firework of tastes at, for a restaurant of this category, absolutely affordable prices. Ingredients are the star here – fruit and vegetables from organic farms, and meat and fish from sustainable sources. Grébaut serves them as natural as possible, yet always refined. It's a fine balance of aromas and textures woven into a harmonious whole.
Shopping
Of course, Paris is not just a gourmet city, but also a fashion capital.
I usually only visit the Galeries Lafayette to admire its breathtaking Art Nouveau architecture – it always fascinates me.
Apart from that, my heart belongs to small labels and pretty boutiques, where I always find what I'm looking for. Keep an eye out for Des Petits Hauts, Sessun, Petit Bateau, French Connection, Comptoir des Cotonniers, Zadig et Voltaire and La petite francaise.
Must-See Museum Paris
Rainy days are also perfect for long museum visits.
A trip to the Louvre is of course an absolute must. Europe's largest museum comprises works of all eras and categories, from paintings to drawings, sculptures, ceramics and archaeological finds.
For lovers of modern and contemporary art like me, the Centre Georges-Pompidou with its top-notch exhibitions is the place to be. The futuristic, fascinatingly idiosyncratic architecture alone makes a detour to the 4th arrondissement worthwhile. From the outside, which seems more like an industrial plant than a cultural establishment, you'd never guess which wonders await inside. One enters the revolving gates and is pumped up the pedestrian tube by a conveyor belt into the control centre. Once at the top, worlds open up. There's so much to see that you could easily spend several days here – especially when it's raining. The opening hours present the only obstacle: the Centre Pompidou carefully regurgitates you again at 9 p.m.
Sunday Brunch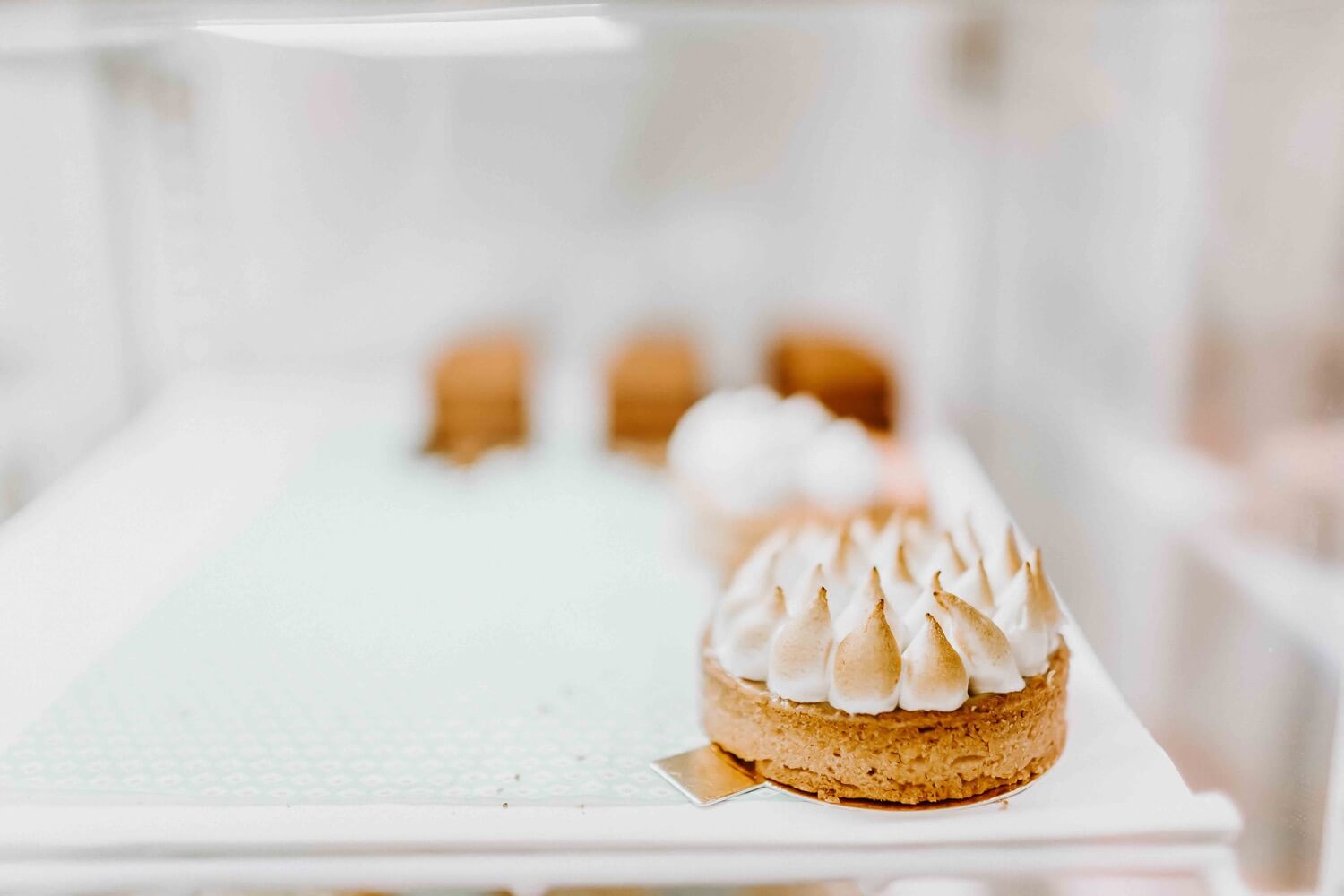 Parisians love a good weekend brunch, whether it's sunny, rainy, stormy or snowy. The hottest addresses are usually booked weeks in advance, so a little planning goes a long way.
Kube Hotel
The Kube Hotel in the 18th arrondissement not only offers perfect scrambled eggs, fresh rolls, ham, cheese, fruit, juice, hot and cold snacks, and never-ending coffee, but also an unparalleled urban jungle feeling. Oh, and you can also spend the night there, of course.
Café Cannibale
"Brunch tous les dimanches" is also the motto of Café Cannibale crew. On Sundays from 12 p.m. to 5 p.m. they serve avocado and salmon toasts, Eggs Benedict, cakes, and granola exactly to my taste.
Retracing the past of Paris
"On y va", says the gravedigger, half Pole, half Frenchman, handing me his umbrella and running ahead courageously. He's my guide for an hour and a half, taking me through Paris' largest and most famous cemetery »Le Cimetière du Père-Lachaise«. While I was completely disoriented before, he now leads me from gravestone to gravestone gesticulating and explaining wildly. I observe the resting sites of Frederic Chopin, Oscar Wilde, Claude Chabrol, Edith Piaf, Maria Callas, Molière, Balzac, and many other renowned personalities. He finally leads me to Jim Morrison, by far Père-Lachaise's most visited place of pilgrimage, which I would certainly have overlooked without my guide. Despite the many flowers and candles, the small grave lays inconspicuously in the shade of high columns. I stand there for 10 minutes with a racing heart and a song by The Doors on my lips.