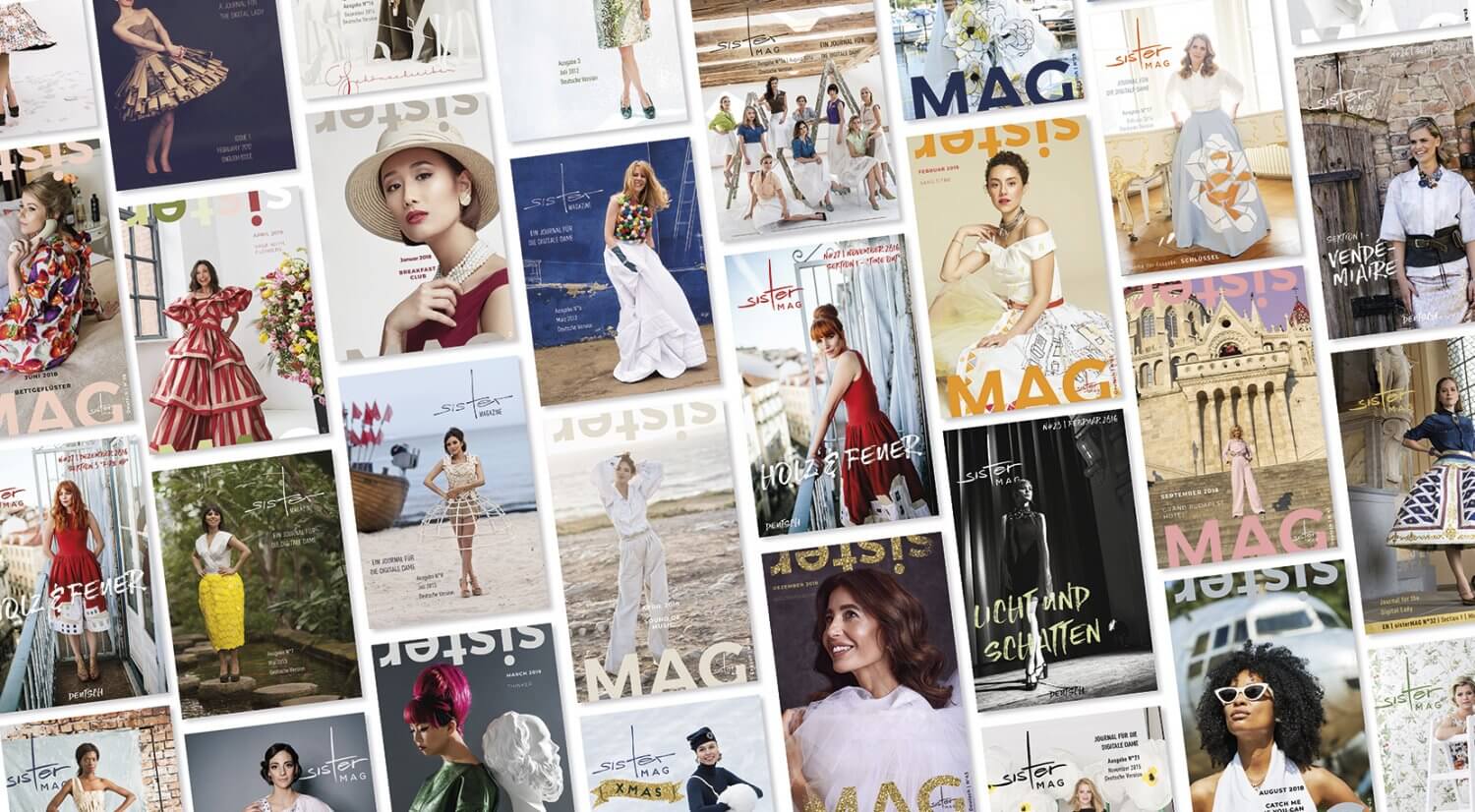 Right from the beginning a very special part of sisterMAG were the creative covers, which not only represent the character of our magazine visibly for everyone, but also always give some hints about the theme of an issue.
To ensure that there are two expressive images for the German and English issue at the launch date, a number of people and steps are involved that we would like to introduce to you in detail with this blog post.
Idea and cover dress / outfit
The creative exchange between Evi and Thea always marks the beginning of the creative process. It's based on our Fashion Director's imagination who based on the theme of the issue and inspiration from haute couture shows in Paris or the current prêt-à-porter trends develops a concept for the cover outfit. And in any case, emotions can boil up – sometimes there are heated discussions about colors, shapes, models and photographers between mother and daughter :).
Once we focused on one idea, the realization is done by Evi in her studio and home in Freiberg. When the first photos of the process arrive, the whole office is involved and we look forward to the finished – usually super elaborate – dress or outfit. By the way, most of the models are also available with Evi as a model ;-))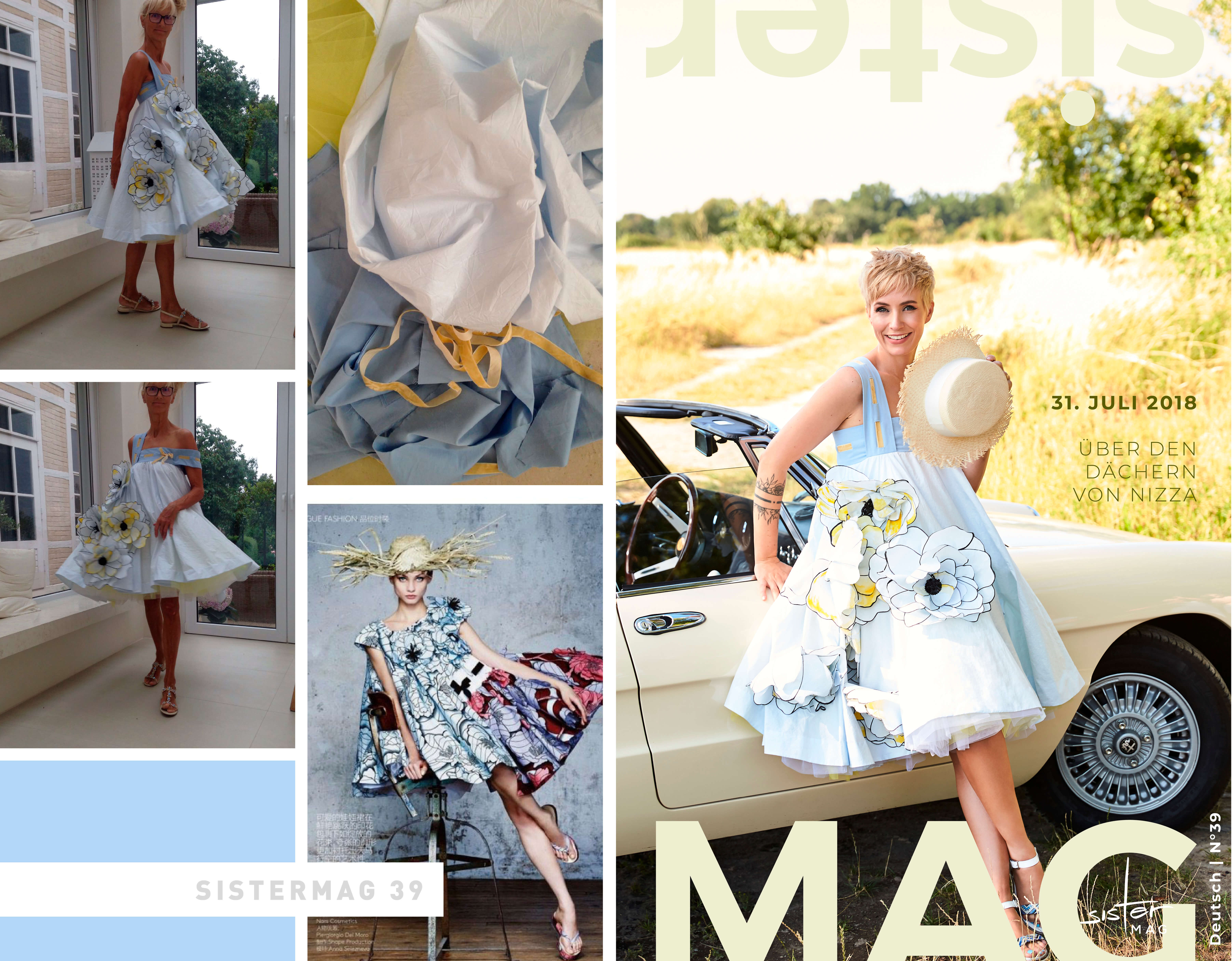 Cover model
Parallel to point 1, we are actually constantly looking for women who embody our sisterMAG ideal – strong, independent, diverse, united by their broad interest in different topics. We find them on the internet as well as in real life. So for example we know Dilek, our sisterMAG 44 cover model, as our wonderful cake baker or Mia from issue 31 as a contact person from one of our partners. Jasmin and Dani from issues 8 and 10 are youtuber / blogger. Every cover woman also has an interesting story to tell, which we present in the magazine itself and since the launch of the sisterMAG podcast in an interview. Because that's exactly what we want to achieve with our covers: Put exciting women, who inspire us, in the spotlight!
Once we've found the right person for an issue, Evi will tailor the cover dress to the person, that means each of the 50 outfits is only available once and is specially adapted to the person … some of the outfits don't even exist anymore as they are made of paper or mirrors and only existed for that one moment in time, the day of the cover shoot. Like the paper-origami-dress of sisterMAG No. 4:
Cover shooting
And there we are at the shooting day! So far, 15 photographers have worked with us to create one of the 50 sisterMAG covers. Each of them brings his or her very own handwriting to the set, creating the atmosphere we want to convey with the cover photo and thus with the issue.
The same applies, of course, to our 15 hair and make-up artists, who play a major part in making our cover models feel comfortable and sometimes even surprised and thrilled to look quite differently. I like to remember the shoot for sisterMAG 24 with Anna Neumann, who is known to everyone as a curly head and who we turned into a straight-haired lady for the shoot. A real metamorphosis with ball gown and glamor hair happened to Ricarda from 23qm Stil on cover N°17!
Follow us in the next few days on Instagram, because we will show you which photographer and which hair and make-up stylist created which cover. For some cover productions we even created small videos, so you can take a look behind the scenes. Have a look below at the wonderful video for our special XMAS issue, where we wen to our home town with an ice princess and videographer Onn Halpern accompanied us:
Tomorrow's blog post will introduce you to the best sisterMAG covers – filtered by categories like »Most Shared«, »Furthest travelled for« or »Craziest material«.